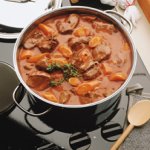 Basic Stock
Ingredients
1

pc

Large Lamb Shrank

Meaty beef bone or chicken carcass

1

pc

Medium Onion

Coarsely chopped

1

pc

Medium Carrot

Coarsely chopped

225

g

Celery

Coarsely chopped (3 stalks)

1

pc

Bay Leaf

5

pcs

Peppercorns

2

tsp

Fresh Thyme

1

tsp

Fresh Oregano

1

tsp

Tarragon

2

tsp

Fresh Sweet Basil

2

tsp

Fresh Coriander

2

Tbsp

Parsley

Finely chopped

2

L

Water
Instructions
Place all ingredients together in a large pot and bring to the boil. Simmer over low heat for 2 hours.

Allow to cool slightly then remove all bones and fat.

Strain stock and discard vegetables and seasoning.

Measure and return level to 4 cups if reduced to less. Chill, then remove any remaining fat before using.
NUTRITIONAL INFO