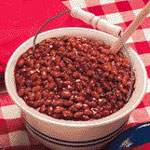 Old Fashioned Baked Beans
Ingredients
2

Cups

Dried Cannellini or Haricot Beans

(440g)

1/4

Cup

Treacle

(90g)

1/2

Tsp

Dry Mustard

1

Tsp

Worcestershire Saurce

1/2

Tsp

Lite or Table Salt

1

Can

Tomatoes

(425g)

1

Piece

Medium Onion

Finly chopped (100g)
Instructions
Rinse beans in cold water then place in a large saucepan of boiling water. Return to the boil and cook for 2 minutes.

Remove from heat, cover and leave to swell and soften for 1 hour. Drain.

Place tomatoes, treacle, onion, dry mustard, Worcestershire Saauce and salt in a large casserole. Stir in prepared beans. Cover and place in a slow oven for 4 - 6 hours. Very slow baking allows the full flavour to develop.
NUTRITIONAL INFO